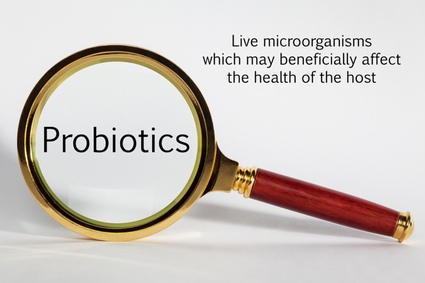 WHAT ARE PROBIOTICS?
Probiotics are beneficial bacteria that reside in the gastrointestinal tract. At least 400 hundred species colonize the human gastrointestinal tract
Our digestive systems are constructed on the basis of this symbiotic relationship with these friendly bacteria
HOW LONG HAVE WE USED PROBIOTICS?
Probiotics have been used for at least 6000 years. All fermentation products contain bacteria / probiotics that are beneficial to the body


Examples of fermented products include: yogurt, wine, cheese, breads, coffee and chocolate!


WHO in 2000 reported that the Japanese with their consumption of cultured soy products like miso and natto and of course companion foods like turmeric, ginger, ocean herbs and green tea have the longest healthy life expectancy of any people on Earth


Coffee fermentation: the rich flavors and aromas of the world premium coffees involves "wet processing"


Of beans involving 16 - 18 hrs of fermentation. The other result of this is the coffee antioxidant profile, which is 4 times the amount green tea possesses!
MEDICAL BENEFITS OF PROBIOTICS
Production of short chain fatty acids such as butyrate - a fermentation product from fiber fermentation, which reduces the risk of colon cancer


GI conditions such as IBS, IBD, Crohns, Colitis


Cancer reduction


Anti-inflammatory and antioxidant


Enhanced free radical scavenging


Safety and bioavailability of existing anti-mutagenic compounds in the plant


Cardiovascular benefits


Immune enhancement and detoxification- through the production of bacteriocins - natural antibiotics that are produced by probiotics. "THE MEDIUM IS THE MESSAGE"


Production and enhanced absorption of vitamins such as Vitamin B1, B6, B12, folic acid and Vitamin K. Along with the production of CoenzymeQ 10 and Coenzyme A


Promotion of proper intestinal environment


Post-antibiotic therapy


Vaginal yeast infections


Urinary tract infections


Cancer prevention


ARE WE BORN WITH BACTERIA?
Studies have shown that with eating diets deficient in tryptophan cause an increase in appetite, resulting in binge eating of carbohydrates


Set point theory - each person has a programmed "set point" weight that is controlled by individual fat cells. When the fat cells become smaller, it sends a powerful signal to the brain to eat. The existence of this set point helps to explain why most diets do not work


One can fight off the impulse to eat for only so long after which it becomes overpowering and the result is rebound overeating, leading to an increase in weight. In addition the set point is now set at a higher level, making it even more difficult to lose weight. This effect has been termed "yo-yo" eating


The key to stop this increase in set point is increasing sensitivity to insulin by exercise, a specially designed diet and certain nutritional supplements


SO HOW WOULD I KNOW IF I HAVE BAD BACTERIA IN MY SYSTEM?
Usually our bodies have methods to keep the bad bacteria or pathogens in check - the symbiotic relationship with the good bacteria keeps the pathogens at bay / or in control. They produce ammunition in the form of various chemical compounds like the ones discussed earlier on, along with others such as hydrogen peroxide, bacteriocins, phospholipids, beta glucans which help to kill the pathogens, however our diets which are high in refined sugars, our lifestyles which are stressed and always on the go, antibiotic therapies that we have had for various infections cause overgrowth of the pathogens as the above conditions are not very conducive for the growth of good bacteria, and bad bacteria thrive in these stressful situations leading to overpopulating the colon and killing off the good bacteria
This leads to a "dysbiosis" in the system - rather than a "symbiosis". The symptoms of an overgrowth of bacteria include:
Abdominal cramps


Bloating


Diarrhea


Gas


Fat mal-absorption


Vitamin B12 mal-absorption and deficiency


Weight loss


DIAGNOSIS OF DYSBIOSIS
Specialized naturopathic testing can be done using: the small intestine bacterial overgrowth test, candida intensive testing and the comprehensive digestive stool analysis testing, which allows the clinician to identify what kind of pathogens, bacteria, fungi are involved, along with how well the body is digesting food.
WHAT CAN I DO TO PREVENT BACTERIAL OVERGROWTH?
It is important to first identify the problem through comprehensive naturopathic testing as there are 100 of species of bacteria, viruses, fungi, protozoan and worms that can inhabit ate the intestinal environment, and treatment varies depending on the type one is affected with. Itís important to keep the colon healthy and free of disease and pathogen overgrowth
PREVENTION IS BETTER THAN CURE


Eating good amounts of fermented foods have numerous benefits as mentioned above


Eating a high fiber diet, low in refined sugars is very important as well
PROBOTIC SUPPLEMENTS - WHAT SHOULD I BE AWARE OF?
Products should contain Lactobacillus and Bifidobacterium species


Must provide live organisms that have survived the commercial process and can survive the hostile environment of the GI tract


Proper manufacturing, packaging and storing of the product to ensure viability, the right amount of moisture, and freedom from contamination


There are a number of excellent companies providing high quality probiotic products; it is difficult to sort through all the manufacturers claims to superiority and some products have shown to contain NO ACTIVE LACTOBACCILUS ACIDOPHILUS!


DOSAGE
1 - 10 billion viable L. acidophilus or Bifidum bacteria cells daily


Larger amounts may induce mild GI disturbance. Lesser amounts may not be able to colonize the gastrointestinal tract. Usually taken on an empty stomach with a glass of water


Fructooligosaccharides? FOS? What is that?


FOS is the substrate that helps promote the growth of bacteria, and provides a healthful substrate for healthful bacteria. They increase the growth of lactobacilli and bifidobacteria


Fermented milk


Usually cultured with Lactoacidophilus bacteria (from the American Journal of Clinical Nutrition 2000)


Mechanically fermented milk has shown to cause an increase in the human gut bacterial content


Benefits include:
Increased short chain fatty acids


Increased bacterial activity in the large intestine


Decreased circulating cholesterol


Helps to maintain food and water intake, which are often reduced in older people


Improved immune defense system, intestinal transit, muscle mass and cardiovascular disease
SOY BASED PRODUCTS
All of the above benefits including the added benefit of isoflavones - genistein and daidzein found in soy, which has a more beneficial cancer chemo protective effect


Homeostatic soil based organisms


Based on the premise that microorganisms in the dirt influence the maturation of the immune system, based on the research of David Strachan, an epidemiologist in 1989


Benefits include those mentioned above plus:
Successful intestinal colonization as they are impervious to stomach acid


Strengthens the immune system


Provides lactoferrin supplementation- an essential byproduct of metabolism, which is essential for retrieving iron from foods


Has been clinically researched for the use various GI conditions
The information on this article is the property of SUSHMA SHAH N.D., and is not intended to treat, diagnose or cure any disease. For any questions, or concerns, please contact me at 416 913 4325 (HEAL) or email me at info@naturesintentionsnaturopathy.com