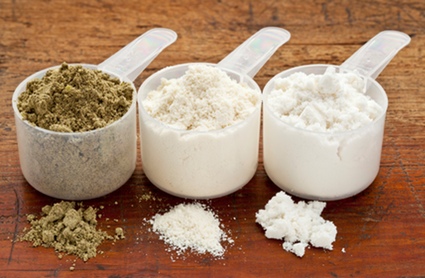 OVERVIEW ON PROTEINS
Proteins are 1 of the 3 basic food nutrients that are necessary to sustain life Ė the other 2 being carbohydrates and fats. Proteins are made of carbon, hydrogen, oxygen, nitrogen and sulfur at times. Next to water, proteins make up the greatest portion of our body weight.
FUNCTIONS OF PROTEINS
Proteins provide structure for all living things


Proteins participate in the vital chemical processes that sustain life


Proteins make up muscles, ligaments, tendons, organs, glands, nails, hair, and many vital fluids and are essential for the growth of bones


Proteins also make various hormones and enzymes that catalyze and regulate all bodily processes


They also help to regulate the bodyís water balance and maintain the proper internal Ph


They also assist in the exchange of nutrients between the intercellular fluids and the tissues, blood and lymph. A deficiency of protein can upset the bodyís fluid balance, causing edema


Proteins form the structural basis of chromosomes, through which genetic information can be passed onto the offspring from the parent


The genetic code contained in each cellís DNA is actually information for how to make that cellís proteins


PROTEIN BREAKDOWN
Whenever protein is consumed, the body breaks it down into amino acids - the building blocks of all proteins


There are non-essential and essential amino acids. The body from other amino acids from other amino acids can synthesize non-essential amino acids


Essential amino acids, on the other hand, cannot be synthesized by the body, and therefore must be obtained from external sources - our diet


PROTEIN SYNTHESIS
Whenever the body "synthesizes" a protein - to build muscle for example, it requires a variety of amino acids for the protein making process. These could come from within the body or from our diet. If there is a constant shortage of proteins, the building of protein in the body stops, and the body suffers


WHAT CAN CAUSE AN AMINO ACID DEFICIENCY?
Dietary protein restrictions - weight control by severe diet restrictions


Inadequate amino acids in the diet - uninformed vegetarianism


Insufficient stomach acid - antacid use, digestive impairment


Any diseases leading to muscle wasting and atrophy


Stress


Amino acid nutrition therefore has an obvious relationship to protein nutrition


SYMPTOMS OF AMINO ACID DEFICIENCY INCLUDE
Failure to thrive


Autism spectrum disorders


Rapid weight loss


Dyspepsia


Behavior disorders


Chronic fatigue


Depression


TYPES OF PROTEINS
Complete proteins: contain all the amino acids - including essential amino acids. Sources include: meat, fish, poultry, cheese, eggs, and milk


Incomplete proteins: contain only some of the amino acids, and do not contain all the essential amino acids. Sources include: grains, legumes, and leafy green vegetables


PROTEIN SOURCES
Although it is necessary to consume the full range, itís not necessary to get them from meat, fish, poultry and other complete- protein foods


Mutual supplementation: Enables one to combine partial protein foods to make complementary protein Ė proteins that supply adequate amounts of all the essential amino acids


Example: To make a high quality meat substitute one could combine beans with:
Brown rice


Nuts


Corn


Seeds


Wheat


ARE WE GETTING ENOUGH PROTEIN IN OUR DIETS?
Americans do get enough protein too much at times, largely as a result of our diet, which is high in meat and dairy products


On average, one should consume a minimum of 50 grams of protein from different sources


Nut butters are high is amino acids; combinations of the above list provide a complete protein source as well


Cornmeal fortified with L-lysine makes a complete protein as well


Soybean products - such as tofu and homemade soymilk, are complete proteins. They contain the essential amino acids plus several other nutrients


Soy products: tofu, soy flour, textured vegetable protein, soy cheese are other healthful ways to complement a meatless diet


Yogurt (fresh and unsweetened) is the only animal derived complete protein source recommended for frequent use in the diet. It contains probiotics that are helpful in maintaining a healthy digestive tract and keeping pathogens such as yeast at bay. Also yogurt is high in Vitamin A, D and B- vitamins


TYPES OF COMMERCIAL PROTEINS AVAILABLE
WHEY AND WHEY ISOLATES


SOY BASED PROTEINS


RICE PROTEINS


VEGETARIAN PROTEINS


AMINO ACID FORMULAS


WHAT SHOULD ONE WATCH FOR?
Find out the NNU value of the protein - that is the net nitrogen utilization value of the protein: that is the nutritional value of the dietary protein or amino acid formula


The higher the NNU value, the better it is absorbed and utilized in the body


The information on this article is the property of SUSHMA SHAH N.D., and is not intended to treat, diagnose or cure any disease. For any questions, or concerns, please contact me at 416 913 4325 (HEAL) or email me at info@naturesintentionsnaturopathy.com