THYROID GLAND OVERVIEW
The thyroid gland is a butterfly shaped organ and is one of the largest endocrine glands in the body. This gland is found in the neck inferior to (below) the thyroid cartilage (also known as the Adam's apple in men) and at approximately the same level as the circoid cartilage.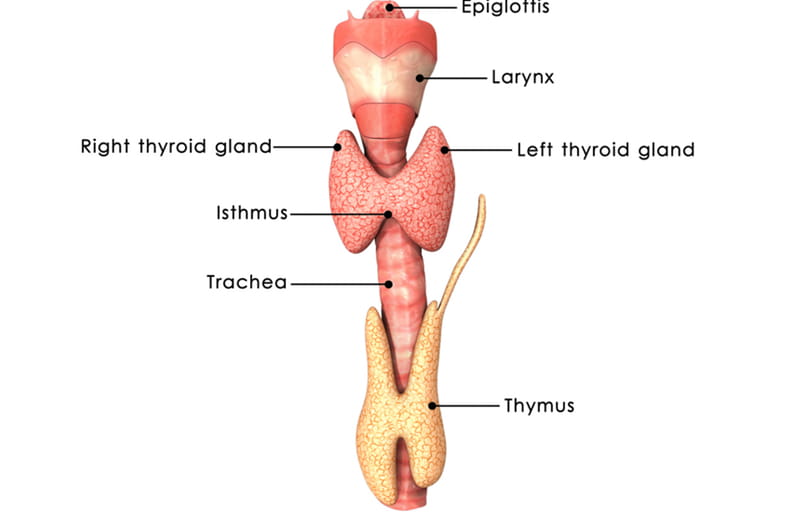 Thyroid gland front view
The thyroid is controlled by the hypothalamus and pituitary. Generally it is felt on swallowing and appears to move along with the muscles next to the esophagus when you swallow.
Do you experience any of the following symptoms?
Feeling cold all the time?


Cold hands and feet?


Tired? Sluggish? Lethargic especially in the morning?


Hot all time?


Uncomfortable in the warm weather?


Recent unexplained change in weight?


Depressed or anxious?


Diffuse hair loss?


Water retention / swollen ankles?


Unexplained infertility symptoms? Menstrual problems?


Difficulty swallowing or a feeling a sensation of having a lump in the neck?


If you answered, "YES" to some of these symptoms, chances are you are might be suffering from undiagnosed thyroid problems.
THE FUNCTIONS OF THYROID GLAND
Similar to the way you regulate the speed of your car with the gas pedal, your thyroid regulates your metabolic rate by secreting thyroid hormone. The thyroid is an important gland in the body that controls how quickly the body burns energy, makes proteins, and how sensitive the body should be to other hormones, hence one of its main function in the body to regulate the metabolism of the body.
Whenever the body is under a lot of stress (mental, emotional, physiological, environmental, physical), the thyroid gland quite often gets affected bringing about a state of "functional" / sub-clinical hypothyroidism, which is often not diagnosed. Functional / sub-clinical thyroid states will create symptoms of cold intolerance, fatigue, sluggishness, weight gain and constipation.
SUB-CLINICAL DYSFUNCTION
Subtle forms of thyroid dysfunction may never progress to an overt condition and symptoms can vary in severity overtime. Even so, untreated thyroid dysfunction can increase disease risk. It is important for thyroid dysfunction to be monitored. When symptoms are not severe or do not seem directly related to thyroid hormones, patients and their health care providers may dismiss them or blame them on some other conditions.